When homeowners are selecting their Perth patio roofing, they are consistently turning to COLORBOND steel. It's made in Australia, looks great, and comes in a variety of colours.
Congratulations! You've made the exciting decision to purchase a patio roof made from COLORBOND® Steel. Now you must make a difficult choice: What colour?  Your roof is the most prominent design element of your home. Consider the style and form of your roof, as well as your home's surroundings and wall colours, when choosing your new roof colour. 
What's COLORBOND® Steel?
BlueScope Steel manufactures a brand of coloured building material called COLORBOND. 
COLORBOND products, including roofing materials, are made from lightweight, strong steel and have been coated with high-quality paint. 
This paint is tightly mixed into the steel base and bonded to it, which makes it very durable and long-lasting. All COLORBOND products are tested in Australia to withstand our harsh climate. 
This makes COLORBOND roofs ideal for Perth patios, regardless of where they are located, especially here in Western Australia. 
Benefits of a COLORBOND patio roof
COLORBOND products are extremely durable and last a long time due to their material composition. COLORBOND roofs are weather-resistant and can withstand extreme temperatures, perfect for the hot summers in Perth. 
These are just a few of the many benefits of using COLORBOND roofing. 
Sturdy and Resilient
COLORBOND roofs have been tested in Australia's harshest environments for more than 50 years. COLORBOND roofs are one of today's most innovative and durable building materials, plus they are termite resistant. They are also impervious to cracking, chipping, and peeling due to their baked-on finish. 
Lightweight
COLORBOND roofs are lighter than tiles made of concrete or terracotta, meaning that they cause very little structural strain on the building. 
Unlike concrete tiles and terracotta, which absorb water in rainy weather, COLORBOND® roofs are watertight to both dampness and water. This means that you don't have to worry about roof weight fluctuations or issues. 
Design-Friendly and Versatile
COLORBOND materials are well-known for their outstanding spanning capabilities. They allow for efficient structures that have more area without columns. 
A wide selection of colours also allows architects, homeowners, and building designers more creative freedom to create unique buildings or facades. 
Their range comes in a variety of profile options to best fit the style and design of your home. You also won't need to paint it as often as other materials because the colour is bonded to metal. 
Highly Energy Efficient
At first glance, you may think tiles are the cheaper alternative. However, expect the final costs of concreate tiles to blow out. This could be due to extra insulation, installation costs, painting, and future maintenance requirements.   
COLORBOND roofs can harness the heat-reflective power of Thermatech technology, which is built into all COLORBOND products. This means that the roof material can bounce heat away, cooling your home and allowing your air conditioner to run efficiently without additional stress from the heat outside. 
COLORBOND roofs are a great choice for all seasons due to their high thermal efficiency, allowing you to save energy and pay less for your utilities by installing more efficient insulation in your home. 
Fire Resistant
COLORBOND roofs are fireproof and non-combustible. They make a great choice if you live in areas where bushfires are common. They are also easier and more durable to protect against the spread of flying embers, as well as burning ashes. 
Efficient Water Collection
COLORBOND roofs are a great option for rainwater storage tanks. They can help collect water more efficiently because they are water-resistant, unlike concrete tiles which absorb some water. 
COLORBOND roofs are also water-wicking which reduces the risk of home leaks. 
Eco Friendly
Steel roofing in general – including COLORBOND steel – is 100% recyclable. The lightweight design makes a COLORBOND roof easy to transport in bulk and contributes to energy efficiency. 
They are pre-cut and delivered to the building site, so there is less waste. COLORBOND roofs are virtually maintenance-free, reducing the product's environmental impact. 
What to consider when selecting your COLOURBOND colour
It takes a lot of thought to choose the right colour pergola roof for your home. 
It can make all the difference in setting the aesthetic of your Perth patio and home for many years by choosing the right primary and complementary colours. You should make your patio work with your style and not seem like an afterthought.  
If you have a plan, choosing the right colour is easy. To tie the spaces together, no matter if you are building from scratch or renovating make sure you consider your future plans and whole house colour scheme. 
You don't want to pick a colour that could date easily or be out of style. Therefore, you might consider the Classic range from COLORBOND, which can be used to enhance your home's appearance and your Perth patio, without being too dramatic. 
Our Perth pergola design consultants have a lot of experience and will help you choose the right roofing colour. 
There are so many COLORBOND colours – where do I start?
There are 33 colour options available. It can be overwhelming to decide where to begin, but it's easier to break down the decision-making process into a few key points. 
Style and shape of the roof

 

House design

 

Surrounding environment

 

Council requirements

 

Colours for exterior and interior walls

 
COLORBOND Colour Ranges include:  
COLORBOND Contemporary: 14 colours

 

COLORBOND Classic: 8 colours

 

COLORBOND Matt: 5 colours

 

COLORBOND Ultra: 6 colours

 
The first three colours are meant to match different design aesthetics. While COLORBOND Ultra provides additional protection in harsh environments. 
COLORBOND Contemporary Colour Range 


COLORBOND Classic Colour Range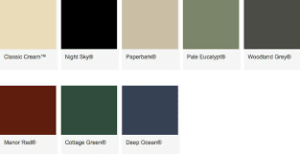 COLORBOND Matt Colour Range 

COLORBOND Ultra Colour Range  

What Else to Consider When Choosing COLORBOND Colours
You need to be aware of the colours that you will use for your alfresco patio guttering, flashings, and downpipes. All these items can be customised to fit your new Perth pergola.  
If you are looking for a patio with an Australian steel frame, we can powder coat it in the COLORBOND colours of your choice. 
Some prefer to have lighter roof frames to contrast with darker roofs. Others want their patio to look seamless, so they keep all colours consistent. The Matt finishes allowing you to combine two different colours from the same range to create a very different look. 
Get in touch with One Stop Patio Shop, your COLORBOND Patio Experts
COLORBOND is the only name you need to know for high-quality roofing products. Here at One Stop Patio Shop, we recommend COLORBOND steel for finishing off your alfresco patio. 
Call our friendly design consultants today and get the patio of your dreams.