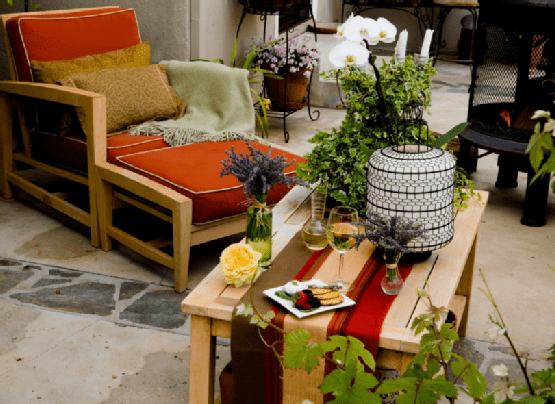 Once you've decided on a layout for your new patio, you should think about other patio design ideas to help you get the most out of this space, including accessories for entertaining, dining and relaxing.
Outdoor Spa
For many people, home spa pools are the ultimate symbol of luxury and can be easily installed alongside patios if you have the space. Outdoor spas are available in a range of styles, so you can match your spa to your patio and create a coherent garden, though spa pools will need to be maintained on a regular basis to keep them safe and hygienic.
Outdoor Kitchen
Outdoor cooking areas can be as simple as a freestanding barbecue or as advanced as a fully functional outdoor kitchen. Locating your kitchen away from the house will ensure that fumes and odours don't impact on your household and will allow you and your guests to enjoy the fresh open air rather than being cramped up indoors.
Entertainment
Connecting your patio to your home's electricity supply will mean you're able to make use of all the entertainment options available in your home, including TVs and audio systems that can be just the thing for garden parties. Outdoor fans and air conditioned patios will also help to keep your guests cool on hot summer days.
Patio Design Ideas in Perth
Contact One Stop Patio Shop on (08) 08 9455 7277 to get a quote for quality Australian made patios in Perth.