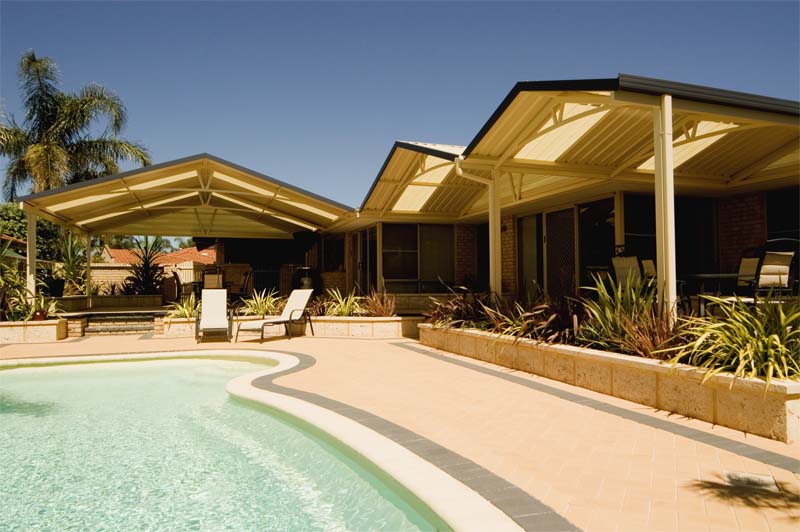 When looking for Gable Patios in Perth look no further than One Stop Patio Shop.
Our gable patio designers will provide you with a free onsite quote, and a custom designed and built a gable patio that is modern and stylish, adding value to your home. We also offer 12 months interest-free payments, so you can build your new patio now and pay later.
What is a Gable Patio?
The gable patio was introduced to the marketplace about 15 years ago, after research and development replaced the less practical basic flat roof style patio, which wasn't as visually appealing nor successful for heat reduction or ventilation.
The gable roof patio has proven to be a very popular roof design and is a customer favourite at One Stop Patio Shop. Our standard gable design has an 18-degree pitch, which increases light, ventilation, and space within your outdoor entertaining area.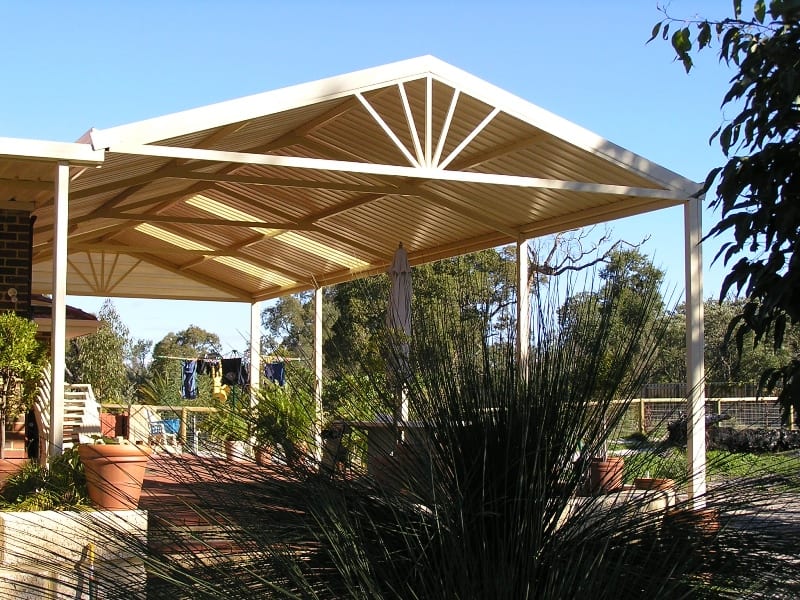 Gable Patio Design & Installation
Gable patios have high roofs and do a great job reducing heat in the hot Australian climate. The high ceiling height creates ambience and, depending on the layout of your property, the gable pitch may also allow for extended views or open your backyard in a seamless extension of your home and outdoor living space.
At One Stop Patio Shop, we'll customise your gable roof patio to suit your style and budget. Whether your home is traditional or contemporary, we will design and install a patio that seamlessly integrates with the existing structure.
Our Perth patio designs are fully customisable, allowing us to use a variety of materials and add design features and extras like patio lighting and skylights to get your desired result.
How much will plan, design, and patio installation cost for your project?
Gable Patio Materials
Gable patios can be made with a variety of materials to fit the style of your patio or carport. At One Stop Patio Shop we only use the best, most durable materials that stand up to Perth's intense weather conditions.
The majority of our gables are covered with a durable Colorbond steel roofing material, suitable for its longevity and reflective qualities. There are a range of different profiles and colours to suit your individual tastes. Choose a colourway to match your décor and provide a unified interior design throughout your home.
Gable patio benefits
Add value to your home– A gable patio can increase your home's value by thousands of dollars. It's a wonderful investment that will offer you a comfortable place to relax for years to come.
Maximise your living area– Gable patios increase your living area, giving you a high-quality sheltered outdoor space to entertain, relax, and get some fresh air.
Design flexibility– The traditional lines of a gable patio are extremely popular due to their design flexibility. This style of patio blends well with both brand-new homes and older-style residences requiring a facelift.
Enjoy the outdoors, comfortably– Patios allow you to keep cool in Perth's warm summers and stay dry during rainy days – they are the ultimate way to stay cool and comfortable in your outdoor area.
Lasting durability– Strength is another appealing element of the gable patio. All of our trusses are fully welded with the welds left on for extra strength and all patios come covered by a 25-year structural guarantee.
Reduce energy costs– A patio can help you reduce your energy costs by providing a shady escape from Perth's hot sun. If you prefer to let a little light in, you can enhance your patio lighting with a skylight at the time of installation. This allows light into your entertaining area to help save on energy costs.
Why Choose One Stop Patio Shop?
One stop shop for all your patio needs
Friendly, reliable service
100% Australian made products
Money back guarantee
Tradesmen not Salesmen
Interest free options available
Bonuses for fast decision makers
25-year structural guarantee
Gable patio prices
Gable patio prices vary depending on the size, design, style, and materials used. One Stop Patio Shop offers full gable patio installation in Perth and the surrounding areas. We offer 12 months interest-free payments, with flexible plans to suit your budget; just choose weekly, fortnightly, or monthly repayments.
Want to know how much your project will cost? We'll give you a free onsite quote within 24 hours.
Contact One Stop Patio Shop
Do you have questions about gable patios or carports? Get in touch with our friendly team today!