Modern outdoor patio designs have evolved to reflect the needs and expectations of style and comfort for today's homes and lifestyles. While considerations of size and aspect will impact the design of your patio area, creating an indoor/outdoor room can accommodate a wide variety of styles to suit any taste and budget.
Transforming this gable, dome, or skillion patio space into an indoor/outdoor room can be achieved in a number of ways. An outdoor kitchen, replacing the traditional barbeque, has become a very popular feature of modern indoor/outdoor rooms. However, an indoor/outdoor room needn't be that elaborate; it can be a simple area to relax outside and can be achieved with a modest budget.
Using similar styles of furniture and décor that have been used inside the house can create a theme that allows for a seamless flow of the interior design to the exterior, though any fabrics used for outdoor furniture will need to stand up to the elements. If possible, using the same flooring treatment that has been used in the adjoining indoor room will blur the distinction between inside and outside. Opening up the house to the outdoor area as much as possible, such as installing large glass doors that fold back on themselves, is a great way to disguise the transition from indoors to outdoors and creates one big living space.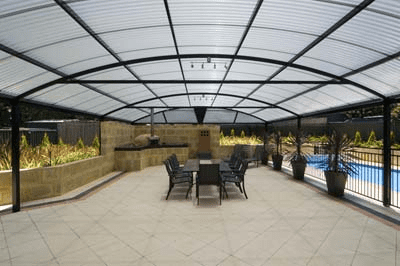 Of course, an indoor/outdoor room will only be able to be used as much as possible all year round with the addition of a roof. Installing a patio with a roof is a terrific use of space in a home, and will ensure entertaining and relaxing is always achievable, regardless of the weather.
For the installation of a quality patio to house your dream indoor/outdoor room, contact the One Stop Patio Shop on (08) 9455 7277.