Granny flats are a welcome home extension that suits the needs of many families.
They're perfect for a teenager's retreat, an at-home office away from the main abode and of course, a home for granny (and/or grandad).
You may think it's strange that One Stop Patio Shop are writing about granny flats in Perth, but actually, we offer more than patios.
Read more to see why One Stop Patio Shop are your specialist for all things granny flats Perth, too!
A look inside Perth Granny Flats
People decide upon buying and building a granny flat for a multitude of reasons, allowing they have the room for one on their block. They can be as big or as small, as customisable or stock-standard as you'd like.
Here's what they're mostly used for:
When people want their elderly parents or grandparents to be close and cared for without going into care homes
When a family is outgrowing the main home and more space is needed for recreation or downtime
When people work from home and want an office that's separate to the main home
When guests come over or perhaps as an Airbnb, or
To rent out to tenants.
When looking at granny flats in Perth, you'll be able to walk through our high-quality showroom display designs and discover the full turnkey, cost-effective solution for your needs.
An array of Granny Flat Perth designs
The styles of our homes are unique from person to person. So are any home additions or Granny Flat inclusions on offer.
No two tastes or needs are the same, which is why we offer designs to suit budgets, space requirements and the freedom for customisations.
Take a look at the Granny Flat designs we offer.
Miami Granny Flat Design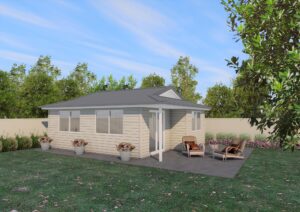 Fully functional, separate dwelling to the main property
Features: one bedroom (or office), bathroom, WC, laundry, fully-equipped kitchen and living area
Perfectly suits a single occupant or couple.
Santa Monica Granny Flat Design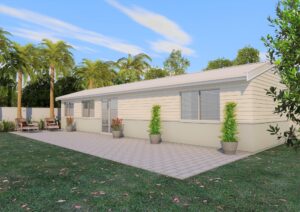 Fantastic for small spaces with a long and narrow design
Features: two bedrooms (or offices), one open plan living and kitchen and bathroom
Ideal for two people to live or to have a home business from, this design boats a modern render and a Colorbond gable roof.
Vancouver Granny Flat Design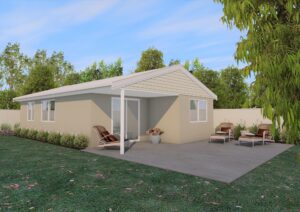 A grand design for larger blocks
Features: two bedrooms (or offices), open plan living, separate laundry and alfresco
A fantastic space addition for families, extended family, work needs, or for renting out to tenants without having to buy an investment property!
Venice Granny Flat Design Perth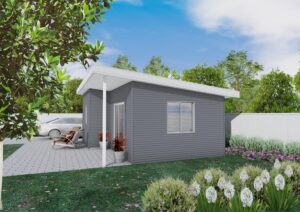 A cost-effective space addition that's small yet mighty functional
Features: one bed, en suite and living area and can be attached to your home or stand-alone
Colorbond external walls and SolarSpan roofing ensures a modern style to any home. 
Why choose One Stop Patio Shop?
We're here to help you from start to finish with no broken promises and 100% satisfaction.
Cost-effective turnkey complete Granny Flats
20 years' experience in home additions
Superior workmanship quality every time
Visit our showroom today.
Ready for a Perth Granny Flat?
Contact us today for the full service and to see how a granny flat will change your life.