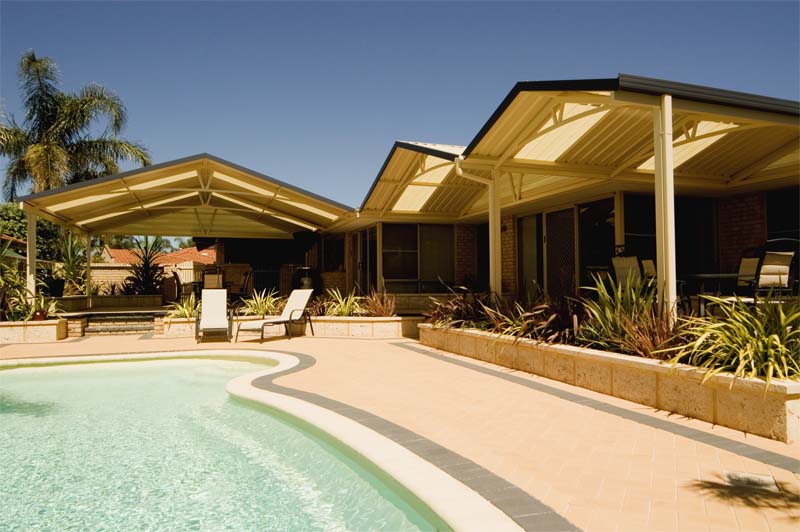 When looking for Gable Patios in Perth look no further than One Stop Patio Shop.
Our gable patio designers will provide you with a free onsite quote, design and built a gable patio that is modern and stylish, adding value to your home. We also offer 12 months interest-free payments, enabling you to build your new patio now and pay later.
What is a Gable Patio?
The gable patio was introduced to the marketplace about 15 years ago, after research and development replaced the less practical basic flat roof style patio, which wasn't as visually appealing nor successful for heat reduction or ventilation.
The gable patio has proven to be a very popular roof design and is a favourite at One Stop Patio Shop. Our standard gable design has an 18-degree pitch, which increases light, ventilation and space within your outdoor entertaining area. A great benefit in the hot Australian climate is the reduction in heat due to the higher roof. As a design feature, not only does the ceiling height creates ambience, but depending on the layout of your property the gable pitch may allow for extended views or open your backyard in a seamless extension of your home and outdoor living space.
Strength is another appealing element of the gable patio. The majority of our gables are covered with a durable Colorbond roofing material, suitable for its longevity and reflective qualities. There are a range of different profiles and colours to suit your individual tastes. Choose a colourway to match your décor and provide a unified interior design throughout your home.
The traditional lines of a gable patio are extremely popular due to their design flexibility. This style of patio blends well with both brand-new homes and older-style residences requiring a facelift.
One lighting option to consider is including a skylight at the time of installation. This allows light into your entertaining area to help save on energy costs.
All our Trusses are fully welded with the welds left on for extra strength.